Old City and Yu Yuan Garden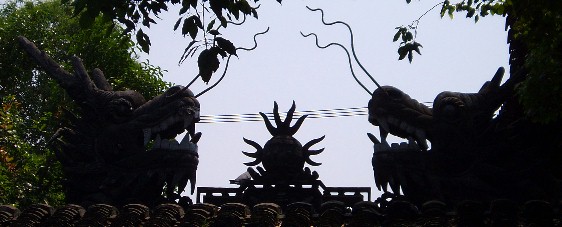 We made several visits to the Old City of Shanghai which was walled in the 1500's to protect it from Japanese pirates. The architecture was mostly restored in the last couple of decades. The Yu Yuan garden dates from 1577 when it was built by a Ming dynasty official. "Yu" means peace and comfort. Here Ed tries to set up for a video shot despite all the milling people.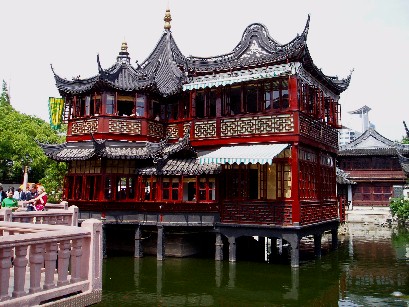 This is the Tea House outside Yu Yuan Gardens in Nanshi, or the old walled city of Shanghai. Bill Clinton and Queen Elizabeth are supposed to have taken tea here (not together ,thankfully). Since our first mention of QE2 in Pucon, Chile we have heard of her visits at most of our destinations - she sure gets around.
The area around Yu Yuan Gardens have been developed recently into a touristy grouping of shops, euphemistically called a "bazaar" and not a trap.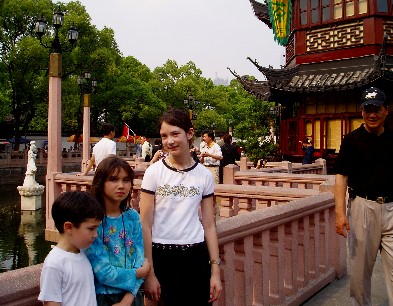 Alex, Valerie and Sophie on the Bridge of Nine Turnings that leads to the Teahouse. Since evil spirits are not supposed to be able to go around corners, one can enjoy one's tea in peace. The bridge actually has more than nine corners but nine is a lucky number in China and maybe the evil spirits can't count very well.
Goldfish (future dragons) at the Teahouse pond.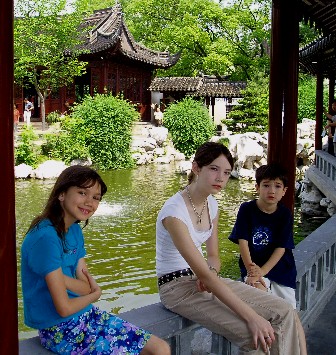 Valerie, Sophie and Alex relax in the shade in the gardens. Valerie has just finished insulting Sophie about something and Alex is trying to cheer her up.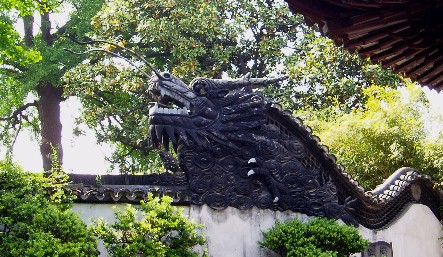 The garden wall sport a series of fanciful dragons that act as guards. Below the dragon's mouth is the figure of a frog which, in legend, is the dragon's companion.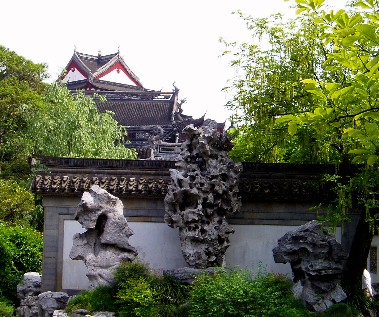 The "exquisite Jade rock" was brought to the garden after the ship carrying it to the emperor in Beijing foundered off the Shanghai coast - one could say that it was Shanghaied.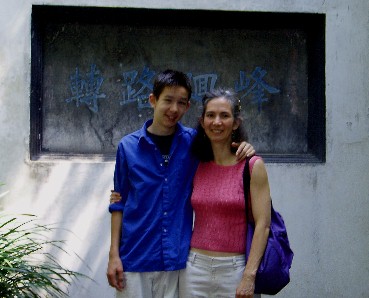 Two things to note here:
Alex took this photo in the garden- with good composition and a steady hand.
James is now more than two inches taller than Catherine.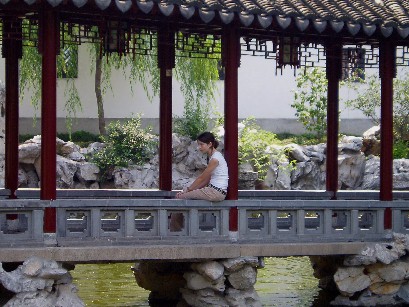 Sophie in a quiet shady moment. A couple of hundred years ago, I'm sure another teen-age girl also took some time to reflect on life's injustices ( or her nasty siblings) on this bridge.
A sunlit pavillion in the garden. The photo doesn't show the hundreds of Japanese and Chinese tourists streaming in groups through the grounds.