Berlin - The Ride of the Valeries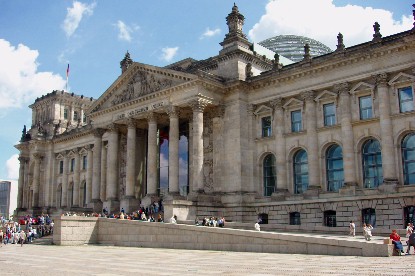 We made a brief stop in Berlin on the way out of Russia. It was a good transition since many of the important sights were formerly in East Berlin. The Reichstag was just a couple of blocks from our hotel. It is topped with a modern glass dome which passes light and allows viewing of the interior of the government at work.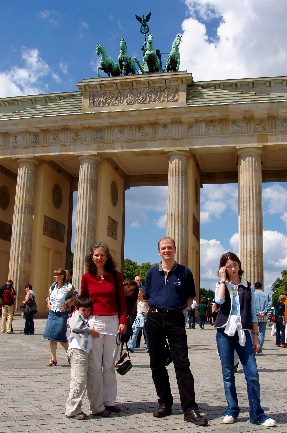 We met up with a friend from college, Michael Kilby who now lives in Berlin. It was great to catch up on 20 years of personal histories and see how much things really don't change. Mike gave us two days out of his busy schedule and provided excellent suggestions of things to do and see. We also were very happy to meet his partner Sandra. Sandra grew up in East Berlin and had some valuable insights and perspectives on unification. The kids said she was cool - we agree. This photo is taken on the former East Berlin side of the Brandenburg Gate.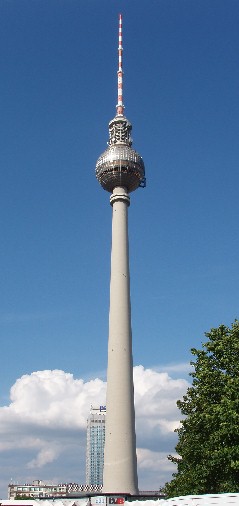 The Fernsehturm, a former East German television tower, is the second highest tower in Europe. Known locally as "The Toothpick", it dominates the Berlin skyline. We added it to our picture collection of worldwide towers that all look like golf balls on smokestacks. Our hotel, the Westin Grand Berlin, was also in former East Berlin. It was known to be the best hotel in East Berlin and hosted all the Eastern Bloc VIP's. They have come down in the world considerably since during our visit it hosted us and the Village People (no kidding - they still exist, feathers. leather and all!)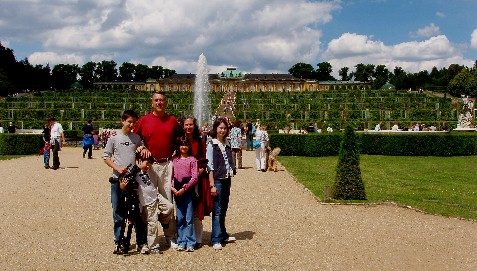 Family mug shot at San Souci, the palace built in 1745 by Frederick the Great after Versailles and Peterhof. I guess 18th century monarchs all had "Versailles Envy." They couldn't resist applying fanciful French names either. Given the sunshine and flowers, Ed couldn't resist humming "Springtime for ...."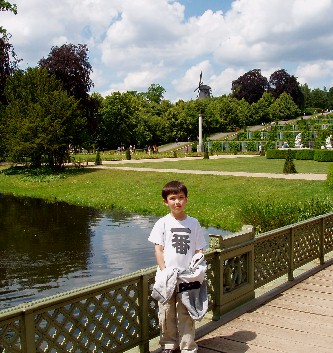 Sans Souci produces its own exclusive vintage in the vineyards below the palace. Alex and the kids were more interested in the ducks in the pond.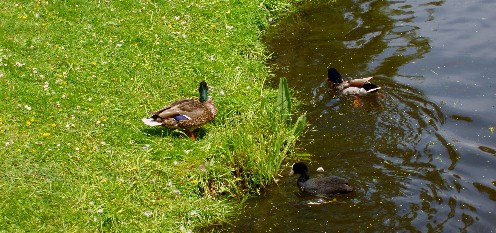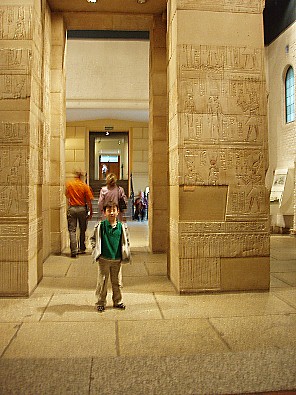 Alex at the Egyptian museum in Berlin. Our visit was an unexpected pleasure as the children really enjoyed exploring the exhibits and looking at the mummys and hieroglyphics.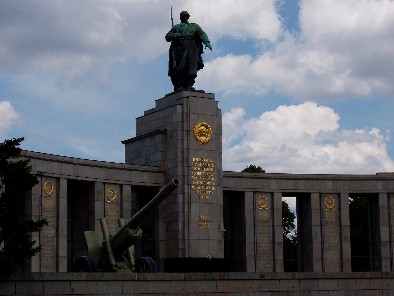 Berlin is replete with memorials to the Russian efforts to defeat the Nazis in World War II. This one was on the West Berlin side of the former divide.