A Train Trip through Rajasthan (Part 2)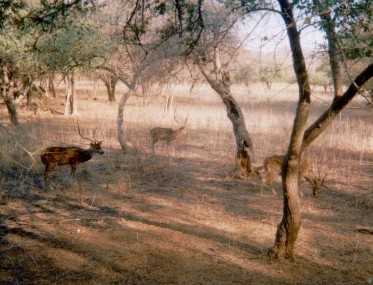 Six a.m. of our fifth day found us out in Ranthambore hunting (with cameras) for the elusive tigers that live in this National Park. About 40 tigers live in the 1400 square kilometers of the park. Considering that a single wild tiger's range is about 200 square kilometers, they're pretty cozy...but still much better than in the zoo or in a jar at the Chinese Herbalist's. Here are pictures of the spotted deer that abound in the park. We didn't see a tiger but it was great to be out in the wild.
Here's a puzzle: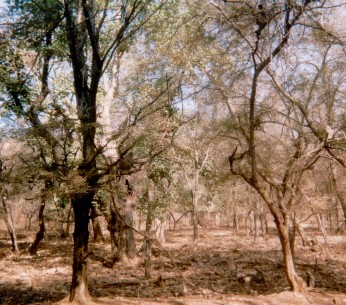 How many monkeys do you see in this picture? They are very well camouflaged at this time of year. For our attempt at an answer you can click here!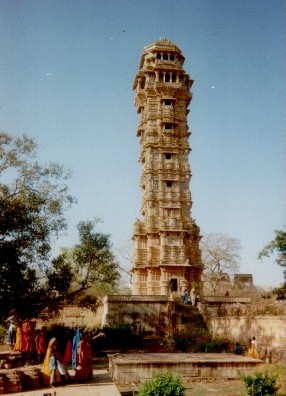 Our next stop was the fort of Chittorgarh which sits on a high butte about 14 kilometers square. Despite its height and multiple gates (which are just barely large enough for a bus or, if you prefer, an elephant), Chittorgarh was captured three times - in 1303 by the king of Delhi, in 1535 by the sultan of Gujarat and finally in 1568 by the mughal emperor Akbar. Most attackers simply laid seige to the butte and waited for the food to run out. The corollary story to these seiges is that on each occasion the fort's inhabitants, facing defeat, committed ritual suicide or "johar." The Rajput noblemen rode out to certain death in battle and the women and children burned themselves to death on a huge funeral pyre. The second seige is reputed to have claimed over 30,000 warriors and 13,000 women in the act of johar. The picture at right is of a Victory tower built by Rana Khumba around 1460 in happier times presumably.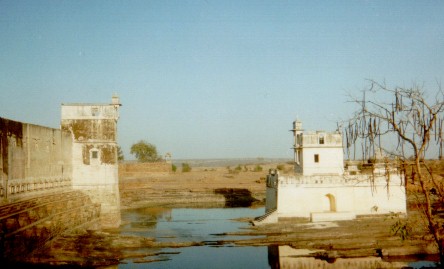 This photo shows the island summer "palace" of Queen Padmini, from Kashmir, whose beauty supposedly sparked the first sack of Chittorgarh. It has a sad "bird in a gilded cage" look to it. Even with more water, being confined here might make suicide not too bad as an alternative (but of course that is probably a very modern perspective).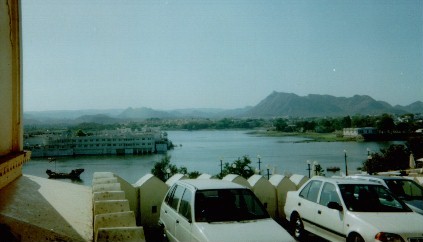 After our usual excellent breakfast and a two hour bus ride through the countryside we arrived at Udaipur. This was one of the first summer palaces to converted to a luxury hotel (on the left of the picture). If the hotel looks a bit familiar then you probably watch too many James Bond movies - Octopussy was filmed here. One very practical reason for putting a summer palace in a lake is the temperature break given by all the water and the breeze over it.
The City Palace in Udaipur as well as containing rooms with jewels and mirrors (floors, walls, ceiling...the works) also had this charming courtyard with mosaics of India's national bird, the peacock. All of these were quite well preserved. One additional surprise was the display of a vast trove of English crystal at the Fateh Prakash Palace Hotel. It was ordered in 1877 by the Maharajah Sajjan Singh but since he died before the order arrived it was put into storage. One hundred years later, they decided to open the packing crates and display the crystal place settings, tables, chairs, lawn sprinklers and many other items, even a crystal bed frame!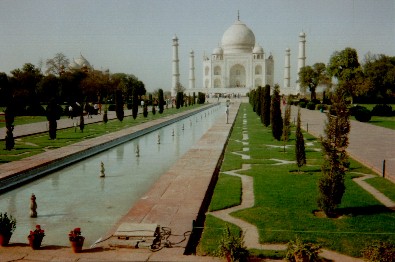 After leaving Rajastan we spent our last day in Agra in Uttar Pradesh. Sophie was excited to see the Taj Mahal but felt quite ill. She bravely dragged herself out to see Shan Jahan's memorial to his favorite wife and took a feverish nap in view of the monument. In spite of the smoggy, hot weather the Taj Mahal did not fail to impress. Also impressive is that Mumtaz Mahal, in whose memory Moghul king Shah Jahan spent 22 years and untold wealth building the mausoleum, was 39 when she died in chilbirth after her 13th child and was reputed to be both intelligent and beautiful. Enough said.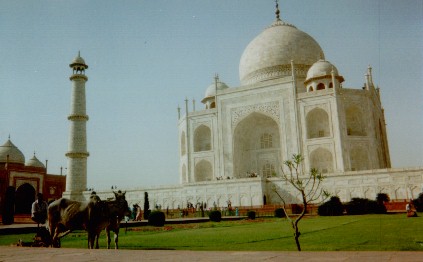 Another view of the Taj Mahal. the man with the two oxen on the left is riding a hoof powered lawn mower. Some mowers mow and mulch at the same time. This one could conceivably mow and fertilize as well!
So ended our trip to Rajasthan!