A Trip Around Uluru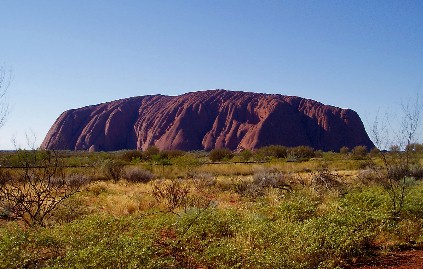 Uluru, or Ayers Rock, is one of the most recognizable landmarks in Australia. Different lighting conditions can make the rock appear anything from bright orange to red to purple. People converge at sunrise and sunset to film its rapidly changing shades. Here in the morning under a clear blue sky it looks like a large chocolate truffle.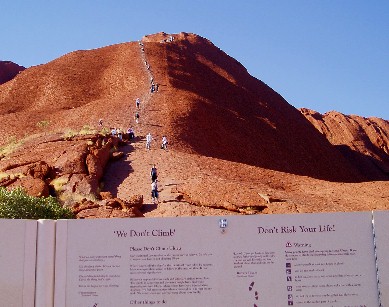 Another tourist favorite is the climb up to the summit of Uluru. This is despite the fact that Uluru is supposed to be a sacred spot for many of the local Aborigines. There are prominently posted signs that they would strongly prefer visitors not climb the rock and liken it to standing on the altar at the Vatican or the holy rock at Mecca. We thought this shot of the "Don't Climb" request and the climbers was both interesting and indicative of the tensions between Australia's indigenous peoples and later comers.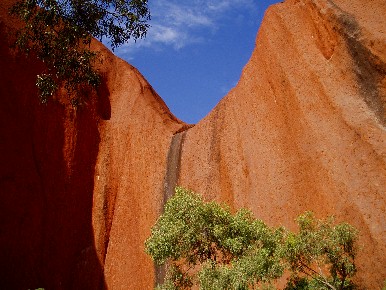 We opted for the 9 km walk around the base of Uluru. At many of the most beautiful formations, photography is prohibited but this view of a waterpath down the sheer wall face was possible. Uluru stands above its surroundings because it is a particularly hard sandstone that has been folded almost at right angles to the surface during an ancient uplift period. The surroundings have eroded leaving Uluru and some other outcrops standing above the flatlands.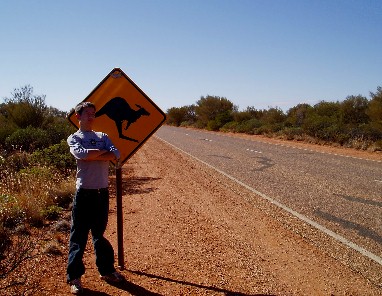 James at a kangaroo crossing. Despite many signs like this, the only kangaroos we saw in Australia were in the zoo.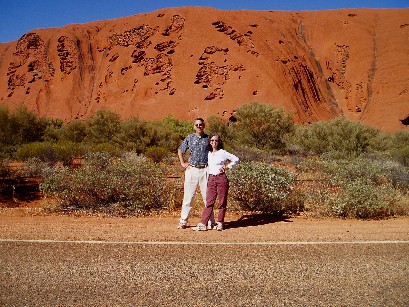 "Having Fun..Wish You Were Here" photo.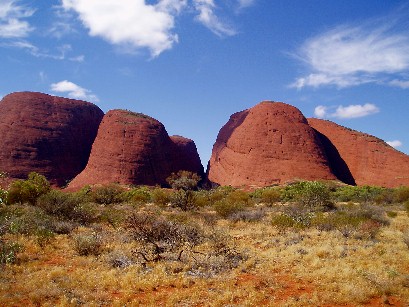 One of the other formations in the Uluru area is called the Kata Tjuta or more commonly "The Olgas." Kata Tjuta is the Aborigine name - The Olgas comes from Queen Olga of Sweden who sponsored the explorer who came across them. We found this assemblage of high rocks just as fascinating as Uluru.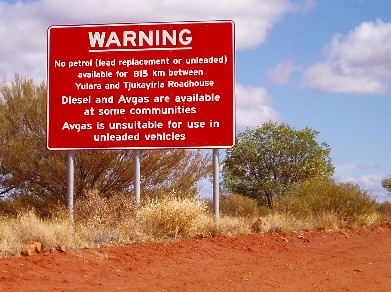 The distances in Australia's Red Centre are immense. This sign along the road to the Douglas River points out that there is no unleaded gas for the next 815 km. At this point owning a deisel vehicle sounds good.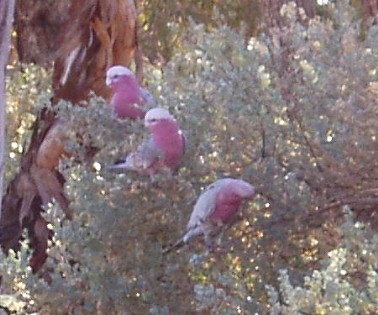 Uluru is home to these bright pink Gallahs that travel around the area in noisy flocks. Sophie would have travelled here just to see the birds.